Dear reader,
Welcome to the April 2018 edition of The Director's Dilemma.
Please help me continue to increase the positive impact of this newsletter by forwarding a copy to a board colleague (or aspiring director) with a suggestion that they may wish to subscribe.
To read this email in a browser, go to www.mclellan.com.au/newsletter.html and click on 'read the latest issue'.
This month our case study looks at the conflicted nature of disclosure and directoral 'skin in the game'. I hope you enjoy thinking about the governance and strategic implications of the latest dilemma: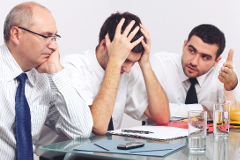 Yusef is a director of a recently listed company. His chairman is a well-known investor with many years' board experience who is a large shareholder in this company.
In the run-up to listing the company announced several large contracts with 'blue-chip' clients. During the listing process it became apparent that management had overestimated their ability to manage a complex listing process and so much new business. One of the announced contracts went badly wrong; the company failed to deliver a quality service and the client has now terminated and is seeking damages.
As the contract award was included in the prospectus, the Company Secretary suggested that the board should announce the loss and the legal claim. The Chair responded that announcing will not be in the company's interest, will harm prospects for other contracts, and lower the share-price, possibly triggering complications with the debt providers. The CEO was alarmed as he has a large number of options that will be worthless if the share-price drops. The CEO has suggested that, as the company has grown since listing, the lost contract is no longer so important and need not, therefore, be announced.
Yusef is unsure. He feels that, if the contract was announced and included in the prospectus, it's loss should logically also be announced. He is fearful because several other contracts are not meeting their Service Level Agreements and might be also lost. He shares the Chair's concerns but prefers to disclose. He is worried about his own reputation as a director if the company is found to have breached its disclosure obligations; especially if more contracts are lost before the company starts to deliver quality services.
When Yusef voiced these feelings, the chair suggested that he would feel differently if he had a major investment at stake. The discussion became heated and the Company Secretary adjourned the meeting for the board members to recover their composure.
How can Yusef bring his board colleagues to consider disclosure without considering their own interests?