Dear reader,
Welcome to the September 2018 edition of The Director's Dilemma.
To read this email in a browser, go to www.mclellan.com.au/newsletter.html and click on 'read the latest issue'.
This month our case study protagonist is considering a course of action that risks crossing the lines from governance to management and from work to personal. I hope you enjoy thinking about the governance and strategic implications of the latest dilemma: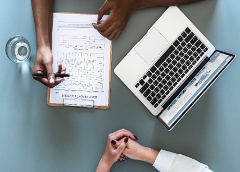 Damian chairs a government board. The company has been through some forced changes when a sector reorganisation first merged it with a department, then demerged it as a smaller entity with essential services provided by the department, and finally 'reinvigorated' it by establishing new enabling legislation, an independent board and the in-house resources to support its business activities.
Moral is very low. When one of the directors quipped "floggings will continue until morale improves" one of the senior executives replied "We're used to flogging".
For the first year Damian has concentrated on establishing good governance processes and sound risk management. He has recruited a new CEO who is enthusiastic about the mission and baffled at the laissez-faire attitude of the workforce. Two months ago, the company participated in a multi-entity survey of workplace health. Damian's organisation rated very poorly; it was worst of all companies surveyed for employee stress, engagement and overall self-assessed employee health. It was in the bottom three on all other measures. Damian and the CEO are determined to improve this; they believe that failing to act would be callous and negligent. They also want to improve productivity, which is below normal government sector standards.
Other senior executives and some board members have reservations about the ability of the organisation to act on the health survey findings. They say that it is up to the employees to take responsibility for their own health and that employee's individual health decisions are not something that the company should interfere with. Damian agrees that they must be careful not to blame the staff for feeling so bad but is committed to helping improve.
What can he, and his board, do?