Dear reader,
Welcome to the June 2019 edition of The Director's Dilemma.
These dilemmas are based on real events that have occurred during my twenty years' experience serving on and consulting to boards. This month our dilemma is based upon the true case of a listed company that suffered a sudden drop in market cap resulting from the actions of short-sellers.
I hope that you will empathise with our protagonist and enjoy the insights from our three contributors.
To read this email in a browser, go to www.mclellan.com.au/newsletter.html and click on 'read the latest issue'. I hope you enjoy thinking about the governance and strategic implications of the latest dilemma: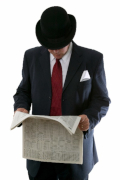 Lawrence chairs a medium sized listed company. He respects and trusts his fellow directors and the management team. Now a large listed financial firm based overseas that has been actively trading his company's stock has issued an 'online opinion piece' that places a value per share which is well below the current market price.
To make matters worse, the local financial press has reported on the opinion piece in articles that are drawing investor attention to the low valuation and that, to Lawrence, appear to be carefully worded to avoid defamation or stating the author's own opinion. The share-price is falling rapidly. Investors are asking questions and demanding information.
The investor relations manager has drafted a statement that counters some of the arguments in the opinion piece but, due to the listing rules, this doesn't contain a valuation or share-price target, and, due to company policy, doesn't contain any forward-looking statements or projections. The company is not currently raising capital and the bank, whilst concerned, appears supportive. The stock is widely held and there is no big supporter on the register who can outweigh the selling that is now affecting the price.
Two of the five directors are qualified accountants but none of the board or senior executives have ever had to justify a valuation like this. Much of the value is dependent on assumptions that appeared reasonable but are now hard to defend. Their asset valuations don't drive a share-price model. The company's stockbroker is furious because his clients are complaining but has no advice on strategic responses.
What should Lawrence, and his board, do?