Dear reader,
Welcome to the July 2019 edition of The Director's Dilemma.
These dilemmas are based on real events that have occurred during my twenty years' experience serving on and consulting to boards. This month our dilemma is based upon the true case of a government-owned company that discovered an unexpected complication arising from a diverse board. Not all dilemmas arise because something is wrong; we sometimes have to make unprecedented decisions when things go right!
I hope that you will empathise with our protagonist and enjoy the insights from our three contributors.
To read this email in a browser, go to www.mclellan.com.au/newsletter.html and click on 'read the latest issue'. I hope you enjoy thinking about the governance and strategic implications of the latest dilemma: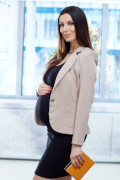 Marnie chairs a large government-owned utility. Her board is great; each director has a unique skill-set that is relevant to the organisation's needs. Like many government boards, Marnie's board is younger than the norm and her directors are all full time employed. The board benefits from their current expertise and contacts. Management are particularly pleased to have access to their skills and insights.
At the last meeting one of the directors announced that she was pregnant. This is great and happy news. It is also totally unprecedented and not covered in the enabling legislation, or any literature about human resource management, which assumes people are employed, or company director practices, which do not appear to have considered the possibility of a pregnant director.
Marnie wants to do the right thing and is confident that the government will support her chosen course of action once she has developed it. Marnie's aims are to provide certainty and security for the pregnant director whilst ensuring that the board continues to access the necessary skills and, importantly, maintains a quorum. Quorum is sometimes difficult as directors have travel commitments so losing a director for a year is going to be difficult to manage.
What can Marnie do?